Products
Molded rubber parts
Compression molding provides rubber parts by forming and distributing the material in a mold mounted on a vertical press.
Sample items: Grommets molded parts, bellows, bumpers, succion cups, gaskets, o-ring seals, diaphragm, suspension components bushings, isolators, bonded part, vibration mounts, stoppers, pinch valve sleeve, etc.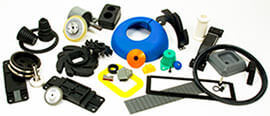 Rubber tank lining
This method coats an elastomeric sheet of metal parts which need protection against the application material. Vulcanization joints provides sealing. We use North American coats that are manufactured by Blair Rubber, Polycorp or Infinityrubber.
Examples of items: parts for the mining rubber lined parts, hydro cyclone acid tanks, impeller, diffuse discharge outlet, pin trunnion floatation tank, feedspout, rotary screen, pipe lining, wear segments, plating tank, pickling tank, agitator, etc.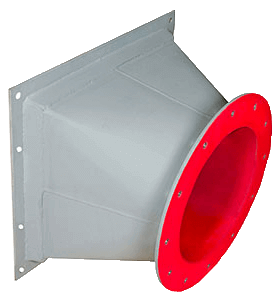 Rubber roll cover
This process applies a layer of elastomer on a roll for applications in various sectors of industry.
Sample items: packaging industry, the printing industry, applicator rolls (glue, varnish, stain, etc.), feed roll, idler roll, etc.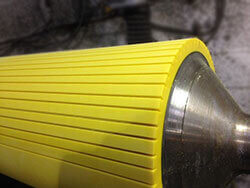 Rubber sheet
A wide range of products are available and we will guide you through the process of selecting the best rubber for you to implement. Whether you need a large rubber band or cut pieces, we can meet your demands. We are able to manufacture your parts from sheet rubber. We cut your pieces using digital or manual methods based on the number of pieces you have requested.
Sample items: Gasket, anti-vibration pad, floor mats, etc.
Rubber extrusion
Extrusion is a manufacturing process by which a compressed thermo mechanical material is forced through a die which has the profile of the desired piece. Forming a continuous long (tube, pipe, channel) and flat (slab, sheet, film) product.
Sample items: profile C (channel C), H-beam (H channel), channel (channel U), L-shaped profile (L stripseal).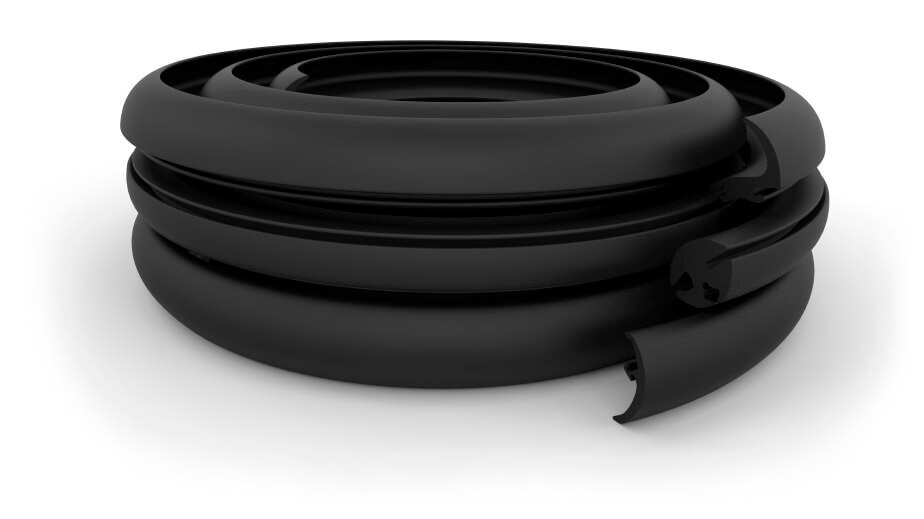 Ceramic rubber plate
The ceramic wear rubber ELASTOCER plates are custom made and are great for protecting your investments. The ceramic aluminum oxide combined with rubber, extends the life of your production lines, reducing maintenance costs. In addition, they can ultimately reduce production downtime through a direct impact on noise reduction.
Elastomont developed unique products which have excellent properties such as: anti-wear as well as higher energy absorption characteristics.