About
Historical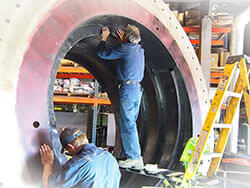 Founded in 1990 by a specialist in rubber coatings, Élastomont already has a strong reputation in a wide range of sectors in the manufacturing industry. Starting with a staff of only three employees, the company has grown to reach unexpected proportions.
After 8 years in business, the company multiplied its factory space by 6 by moving to their current location. In 2002, a group of investors acquired Élastomont and proceeded to reorganize it, integrating new facilities including a large capacity autoclave, facilities including sandblast cleaning, presses molding and an extruder.
Strategic agreements with high quality material suppliers (Blair, Polycorp, Infinity, Linatex) allow us to improve our quality standards while providing unparalleled technical support. The team now has over 20 dedicated employees who put their expertise to work. Here is a full list of the industry sectors served: petrochemical (oil & gas) mining, agriculture, water treatment, waste management , recycling, pulp and paper, defense, power generation, transportation, food processing, medical, forestry , pharmaceutical, aerospace, etc.
Vision
Elastomont is definitely a major player in the elastomer coating and molding market. Through close collaboration with our customers, we continue to progress towards greater heights.
Position ourselves as being the go-to in our market.
Increase our presence and expand our horizons.
Provide unparalleled service using high quality products at a competitive price.
Exceed your expectations.
Quality Control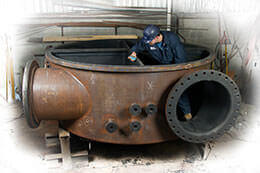 Élastomont prioritizes raw material quality and work procedures. Quality control is initiated as soon as the project begins with an precise understanding of the specifications and implementation. The process of meeting quality standards requires the involvement of every employee and means much more to us than mere inspection and compliance reports. Whether related to the strictness of the food industry or the accuracy required if it the parts relate to the defense sector, we are able to meet all the usual market standards.
Our values
Expertise discipline
Respect and integrity
Knowledge sharing and transparency
Commitment and loyalty